LOVE FOR LIVELY!
So, It's not just me who fell head over heels for Blake Lively, as soon as she appeared on my beautiful television screen with the first season of my obsession, Gossip Girl.
Shhe's beautiful, she's talented, she's had all the hottest designers beg to dress her. She's constantly pictured looking gorgeous, styled to perfection by the genius that is Eric Damon (yes, I've posted about him before, but seriously, he's worth the space) and has Karl Largerfeld and Anna Wintour on her friends list. Jealous much!?
Only, however, I sometimes question if it is actually Blake Lively in that outfit, or is it Serena VDW? i don't know, maybe it's just very very good casting.
I love you Blake & I love you SVDW ♥
______________________________________________________________________
OMFG!
Wow! I am so obsessed with this show. Gossip Girl is everything I adore, fashion, social climbing scandal, the friendship that is Blair and Serena and the drama that is the City! What isn't there to love? From the first season where the outfits were prepped to perfection for the famous Constance Billard school- what an amazing name!- to the new season's style sporting all the hottest designers. Their costume designer Eric Damon is an absolute genius! He mixes the cast's style with their character's to make every outfit so up to date yet personal and individual. He takes inspiration from everywhere, once using broken chains and metals to combine them into a statement necklace for Serena. He dressed Blair in a cape last season, months before the trend touched the catwalk. OMG! And Chuck Bass's suits and scarf combination! It's iconic, I want one for my boyfriend! Enjoy the amazing pictures of the gorgeous cast, Oh, to look like Blake Lively eh?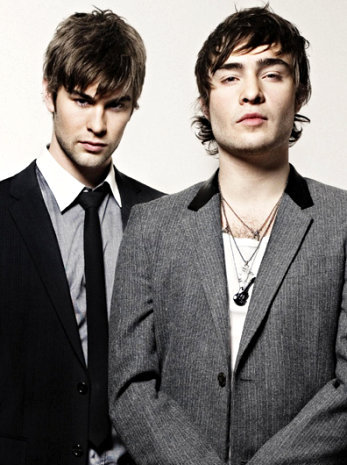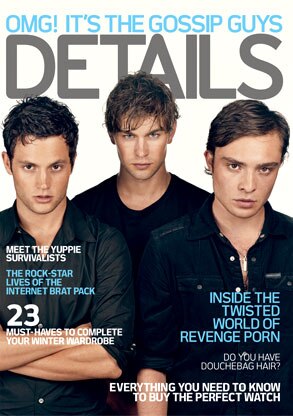 Over the years, I've grown to love so many magazines. I constantly buy so many but i can't quite explain what i love so much. The glossy pages always seem to be able to allure me, but it's so much more. The images, the pristine prints of fabulous men and women, styled to perfection; almost impossibly real. Or is it the vibrant colours of the latest prints and next season's shapes, or the newest cuts Karl Lagerfeld is using on his impeccable models, making those legs seem that inch longer, and if possible, thinner.
Wow! Just thinking about the latest issue of Vogue magazine seems enough to entice my fingers to pull apart my purse for that £3.50. Can you imagine working for a publisher like that? Oh the glamour, the glitz. The raw empowering feeling of choosing the garments that every fashionista will crave for the next six months. Mixing with the elite of the fashion world, although of course by then you are part of it all, the leader if you like. Like the Regina Gorge of fashion.
Maybe that is what is so enticing about these magazines, the hope and inspiration they create for us, the endless possibilities. I mean, it's got to be someone, why not me?
Now, where else would i get that optimism from, other than the likes of Vogue and Elle and Glamour and Grazia and and and...!?